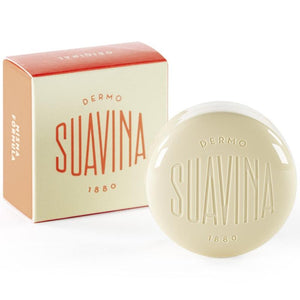 Thanks to its formulation made with 100% natural essential oils, the Dermo-Suavina lip balm by Laboratorios Calduch repairs and protects your lips intensely, prioritizing your skin care.
More
Benefits:
- Calduch Laboratorios has been making the same lip care product for the past 130 years.
- Formulation based on 100% natural essential oils, free from preservatives, emulsifiers, and harmful substances.
- Pleasant citrus and menthol aroma, to instantly provide a soft, fresh effect, instantly making your lips irresistible.
- Repairs, moisturizes and protects lips and mucous membranes from damages caused by excessive dryness as a result of flu, cold or rhinitis symptoms, characterized by the continuous use of tissues.

These statements have not been evaluated by the Food and Drug Administration. This product is not intended to diagnose, treat, cure, or prevent any disease.
Brand Info
Calduch Laboratorios is a company with family tradition that has not needed to modify its essence to integrate into this new century.

Work, perseverance and discipline are the factors of the company's success. This is a company that strives every day to give customers the best handmade products and the best ingredients.